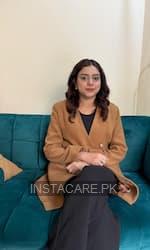 Dr. Shania Shafi
Chiropractor
Trainer (Neuromuscular & Deep Tissue), DC (Doctor of Chiropractic)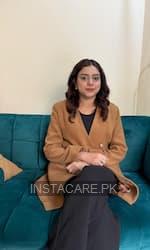 Dr. Shania Shafi - Chiropractor
Trainer (Neuromuscular & Deep Tissue), DC (Doctor of Chiropractic)
Visit Doctor
Chiropractor Dr. Agha Ebrahim
52-B, Opposite NIC Building Nazim-ud-din Rd F 7/4, F-7, Islamabad
---
Monday

3:00pm - 8:00pm

Tuesday

3:00pm - 8:00pm
Wednesday

3:00pm - 8:00pm

Thursday

3:00pm - 8:00pm

Friday

3:00pm - 8:00pm

Saturday

3:00pm - 8:00pm

Sunday

3:00pm- 8:00pm
Online Consultation
Chiropractor Dr. Agha Ebrahim
Rs. 2000
---
DC (Doctor of Chiropractor)

Neuromuscular and Deep Tissue Training from Dr Agha Ebrahim Clinic.
Dr Agha Ebrahim Clinic as Chiropractor

Jinnah Hospital and PSRD as Ex Internship.
Dr. Shania Shafi is a Chiropractor. She is having over 7 years of experience in the field of Chiropractor. She practices at Chiropractor Dr. Agha Ebrahim. Her field of interest includes Sports Massage Therapy, Transcutaneous Electrical Nerve Stimulation (TENS), Back Sprains And Strains, Cervicogenic Headaches, Coccydynia, Degenerative Disc Disease, Herniated Disc, Piriformis Syndrome, Sciatica, Short Leg Or Leg Length Discrepancy, Spinal Osteoarthritis, Whiplash, Heat Therapy, Pre And Post Natal Massage, Pregnancy Exercise, Trauma Injury Physiotherapy.
Frequently Asked Questions
Similar Chiropractor in Islamabad
Top Specialities in Islamabad
Top Chiropractor in Islamabad Areas
Top Hospitals in Islamabad
Radiology Pathology Labs in Pakistan
Popular Labs in Pakistan