Last Updated On Friday, July 1, 2022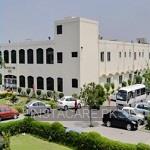 Ghurki Trust and Teaching Hospital
GT RD-Burki Rd Link Band Road, Jallo More, Lahore
Top Specialities in Ghurki Trust and Teaching Hospital
About Ghurki Trust and Teaching Hospital
Ghurki Trust and Teaching Hospitalwas established in 1860 in Lahore. Pakistan. Ghurki Trust and TeachingHospital's mission is to provide health facilities and overcome the burden ofthe poor regarding their health facilities.
Timing
Ghurki Trust and Teaching Hospitaloffer 24/7 hours of emergency services.
Consultation Fee
Ghurki Trust and Teaching Hospitalhave no consultation charges, if you want to consult with any doctor of GhurkiTrust and Teaching Hospital you only need to take a token.
Ghurki Trust and Teaching Hospitalservices
Ghurki Trust and Teaching Hospitalis based on 600 beds and divided into 20 departments which include Generalmedicine, ENT, Gastroenterology, Orthopedics, Gynecology, Dental surgery,Pathology, Radiology, and many others. Ghurki Trust and Teaching Hospital giveservices of
· JointReplacement
· Arthroscopy
· PlasticSurgery
· ICU(Intensive Care Unit)
· CyberKnife (Robotic Radio Surgery Unit)
· NeuroMonitoring
· Vaccinationservices
· Ventilators
· Cardiography
· Orthopedicand Spine Surgeries
· HepatitisB & C Treatment
· EyeSurgeries
· UrologyConsultation and Surgeries
· FreeArtificial Limbs
Consultants
GhurkiTrust and Teaching Hospital have experiencedmedical specialties. They provideexcellent health services for all patients but if you want a hassle-free andquick appointment from the Ghurki Trust and Teaching Hospital doctors consultthrough Instacare. Pk
Frequently Asked Questions
Top Specialities in Lahore
Similar Hospitals in Lahore
Top Labs in Pakistan