Last Updated On Wednesday, June 29, 2022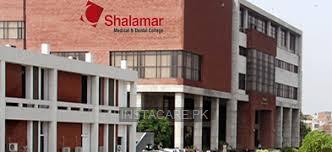 Shalamar Hospital
2 Shalimar Link Road, Shalimar Larechs Colony, Singhpura, Lahore
Top Specialities in Shalamar Hospital
About Shalamar Hospital
Shalamar Hospital is a trusted hospital established in 1982 in Lahore, Pakistan. Shalamar Hospital's vision is to provide health services to patients at an affordable cost. Shalamar Hospital is a healthcare organization, they have advanced clinical service delivery and research by developing an enabling environment of compassion, respect, teamwork, stewardship & innovation.
Timing
Shalamar Hospital offers 24/7 hours of emergency services.
Consultation Fee
The average consultation fee at the Shalamar Hospital ranges from 2000 - 2150 RS.
Services Available In Shalamar Hospital
Shalamar Hospital is based on 500 beds they give surgical, internal medicine, pathology, gynecology, orthopedic, dentistry, ophthalmology, nephrology services. Shalamar Hospital give 9 best special clinic services which are given below:
Scopes

Sider

Pulmonology

Neurology

One-stop breast cancer clinic

Audiology

Nephrology

Gastroenterology

Laser clinic
Laboratory Facilities
Laboratory Department of Shalamar Hospital has experienced pathologists, histopathologists, microbiologists, hematologists, chemical pathologists, biologists, technologists, and technicians.
Shalamar Hospital offers all lab tests at low prices that help in the early detection of diseases.
Shalamar Hospital also offer Radiology services which include



C.T scan

C.T Pulmonary and Cardiac Angiography

Mammography

Fluoroscopy Studies

MRI scanning

Abdominal Ultrasound

Vascular Ultrasound

X-Ray



Consultants
Shalamar Hospital has experienced medical specialties. They provide excellent health services for all patients but if you want a hassle-free and quick appointment from the Shalamar Hospital, doctors consult through Instacare.pk
Frequently Asked Questions
Top Specialities in Lahore
Similar Hospitals in Lahore
Top Labs in Pakistan