Last Updated On Thursday, July 7, 2022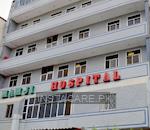 Mamji Hospital
C-19, near Water Pump Chowrangi, Federal B area, Karachi
Top Specialities in Mamji Hospital
About Mamji Hospital
Mamji Hospital was established in1998 and located at C-19, Block-17, F.B Area,Karachi.
Their mission isto provide quality medical care in an excellent environment to the patients.
Timing
Mamji Hospital offers 24/7 hoursof emergency services.
Consultation Fee
The averageconsultation fee at MamjiHospital is 800 - 1500 RS.
Mamji Hospital services
Mamji Hospital is based on 85 bedded hospitals in their hospital theyoffer many services but some services are given below:


Anesthetists
Audiologist
Cardiologists
Chest Physician
Dental Surgeons
Dermatologist
Diabetologist
ENT
Gastroenterologist
General Physicians
General Surgeons
Gynecologists
Nephrologist
Neuro Surgeons
Oncology
Radiology Service
The radiology department of MamjiHospital gives modern facilities in which they provide the services of X-ray,Ultrasound, Mattograohy, Mammography, and OPG.
Consultants
MamjiHospital has experienced medical specialties.They provide excellent health servicesfor all patients but if you want a hassle-free and quick appointment from MamjiHospital, doctors consult through Instacare.pk.
Frequently Asked Questions
Top Specialities in Karachi
Similar Hospitals in Karachi
Top Labs in Pakistan