Last Updated On Thursday, June 30, 2022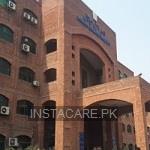 Lahore General Hospital
Camp Jail, Near ismail Nagar, Ferozepur Road, Lahore
Top Specialities in Lahore General Hospital
About Lahore General Hospital
Lahore General Hospital is the best public hospital in Lahore, Pakistan. They provide good health services to the community. Lahore General Hospital offers 24/7 hours of emergency assistance. Lahore General Hospital is based on 1600 beds with correspondence rooms, an intensive care unit, and a neonatal intensive unit. Lahore General Hospital offers 16 emergency services of Surgical, Neurosurgery, Medical, Obs and Gynae, Orthopaedics, Pediatrics, Laboratory, X-ray, I.C.U, CT scan, Ultrasound.
Lahore General Hospital provides comprehensive services for the diagnosis, treatment, and care of all conditions that affect the brain, spinal cord, peripheral nervous system, and muscles. The Neurosurgery Department of Lahore General Hospital contributed enormously to the development of Neurosurgery in Pakistan. Minimum 350 patients of neuro disorder seen in OPD daily and around 100 patients in an emergency department. Lahore General Hospital treats around 7000 patients for spinal cord surgeries annually. Lahore General Hospital has the best Neurodiagnostic with 3 CT scans, 2MRI, multiplanar angiography.
Lahore General Hospital is divided into 24 basic and clinic departments and they have advanced lab facilities available in which they have 49 advanced Automated Equipment and also have Covid 19 RT-PCR testing lab and they have tested 10,000 samples of COVID-19. Lahore General Hospital has also a Central Sterile and Supplies Department (CSSD) through which they provide sterilize equipment for surgeries. CSSD has separated into a three-zone Solid zone, Clean zone, Sterile Storage zone.
Lahore General Hospital also conducts free medical camps, distributes medicines, and provides free health care services through the platform of Anjuman Behbood-e-Marizan.
Lahore General Hospital provides excellent health services for all patients but if you want a hassle-free and quick appointment from LGH,s Doctors consult through Instacare.pk.
Frequently Asked Questions
Top Specialities in Lahore
Similar Hospitals in Lahore
Top Labs in Pakistan