Last Updated On Sunday, July 3, 2022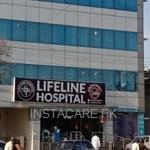 Life Line Hospital
Building # 462, 463 Khokhar Chowk, Block G3, Johar Town Phase 2, Lahore
Top Specialities in Life Line Hospital
About Life Line Hospital
Life Line Hospital was establishedin 1997 and located at Khokhar Chowk, JoharTown, Lahore.
Life Line Hospital providesquality healthcare to residents of Lahore.
Timing
Life Line Hospital offers 24/7hours of emergency services.
Consultation Fee
The averageconsultation fee at the LifeLine Hospital is 1000 to 2000 RS.
Life Line Hospital Services
Life Line Hospital offers 20 plusservices which include service of Nephrology, Radiology, Surgery, Pathology,Internal Medicine, Opthalmology. The gynecology department of Life Linehospital give the best treatment which includes these services which are givenbelow:
· Anatomyscan
· AntenatalCheckup/Antenatal exercises/Antenatal Yoga
· AntenatalServices
· CaesareanSection/ C-Section
· Clinicalbreast examination (CBE)
· ContraceptionAdvice
· Coupleswith previous babies having chromosomal/co...
· Delivery
· Detailedanatomy scan
· Dopplerultrasound
· Epiduralanalgesia
· Fetalsurveillance & Doppler scan
· Fetalsurveillance scan
· Firsttrimester NT scan
· GeneticTesting
· GynaecProblems
· High-riskobstetric care
· InfertilityTreatment
· Intra-UterineBlood Transfusion
· IntrauterineFetal Blood Transfusion
· Labour
· Laparoscopy
· Medicaldisorders during pregnancy
· Medicaldisorders during pregnancy
· Multiplepregnancies (Twins/Triplets)
· NST
· Obstetrics
· PolycysticOvary Syndrome
· Post-menopausalbleeding
· PreconceptionCounselling
· Pregnancieswith fetal abnormalities
· Pregnancieswith fetal anomalies
· Prenatalinvasive

Radiology Service

In Radiologyservice Life Line hospital offer the services of
· Angiogram
· Coiling
· CT Scan
· DSA (digital subtraction imaging)
· Embolization
· Fluoroscopy
· Mammogram
· MRI
· Pic line
· RFA
· X-Ray
Consultants
Life Linehospital has experienced medical specialties. They provide excellenthealth services for all patients but if you want a hassle-free and quickappointment from the Life Line hospital,doctors consult through Instacare.pk.
Frequently Asked Questions
Top Specialities in Lahore
Similar Hospitals in Lahore
Top Labs in Pakistan