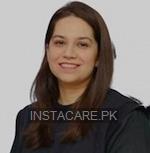 Dr. Sadaf Ishaque
General Surgeon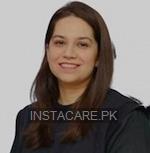 Dr. Sadaf Ishaque - General Surgeon
MBBS, FCPS (Surgery)
Visit Doctor
Horizon Hospital
Friday

8:00pm - 9:00pm

Sunday
Chughtai Medical Center (Jail Road)
Farooq Hospital (Westwood Branch)
Online Consultation
Horizon Hospital
Rs. 2500
---
MBBS from University of Punjab, 2005

FCPS (Surgery) from College of Physicians and Surgeons Pakistan, 2015.
Experience:
2016 - consultant breast and general surgeon, Farooq hospitals

2020 - Assistant professor, SHALAMAR INSTITUTE OF HEALTH SCIENCES
2017 - Consultant Breast & General Surgeon, Horizon Hospital
2020 - Consultant Breast & General Surgeon, Chughtai Medical Center.
Dr. Sadaf Ishaque is a General Surgeon and Breast Surgeon. She is having over 12 years of experience in the field of General Surgery and practices at Horizon Hospital, Farooq Hospital (Westwood Branch) and Chughtai Medical Center (Jail Road). Her field of interest includes Hemorrhoids, Fissure Fistula, Breast Surgery, Bariatric Surgery, Parotid Surgery, Diabetic Foot, Abdominal Surgery, Breast Biopsy, Carotid Endarterectomy, Cesarean Section, Dilation And Curettage, Inguinal Hernia Repairs, Mastectomy, Modified Radical Mastectomy, Partial Colectomy, Tonsillectomy, Appendectomy, Breast Cancer Surgery, Breast Cosmetic Surgery, Hemorrhoidectomy, Intestinal Surgery.
Frequently Asked Questions
Similar General Surgeon in Lahore
Top Specialities in Lahore
Top General Surgeon in Lahore Areas
Top Hospitals in Lahore
Radiology Pathology Labs in Pakistan
Popular Labs in Pakistan